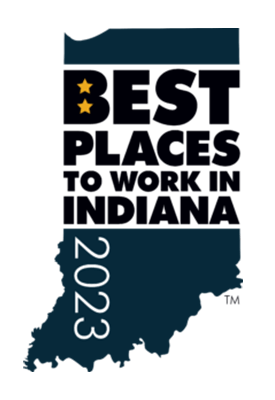 Earlier this year, REGO-FIX was recognized as one of Indiana's top employers for the fourth consecutive year by the Indiana Chamber of Commerce. It was another round of high praise among strong competition that reinforces the significance of the REGO-FIX Triangle of Core Values: integrity, excellence, and growth.
Our North American headquarters located in Whitestown, Indiana, was named to the Best Places to Work in Indiana list, an Indiana Chamber of Commerce initiative now in its 18th year recognizing the state's premier workplaces. It is the fourth consecutive year we have received the honor in the small business category, comprised of Hoosier businesses with between 15 and 74 employees.
The two-part survey evaluated company workplace policies, practices, philosophy and solicited employee feedback about their work environment and experience. For REGO-FIX, however, the award is much more than an accolade. It reinforces our conviction that positive company culture translates to sound customer service and successful partners.
"We are proud of our supportive and collaborative work environment," said William Obras, General Manager Americas for REGO-FIX, "Our family of employees continues to exemplify our values of integrity, excellence, and growth. We see it reflected in the work we do and the positive workplace we create together."
Integrity is our corporate bedrock. We do the right thing – for our company and its people and our customers. We treat our people with dignity and integrity and do nothing less for our customers. From live in-person customer support to doing what's necessary to get an order delivered on time, we honor our commitments to ourselves and our customers.
Being recognized for excellence is gratifying because we always strive to get better. True excellence is a moving target that we chase daily. We continually evaluate and evolve our processes from how customer service answers calls and questions to the quality of packaging that contain our products. That commitment to excellence empowers our employees and, more importantly, our customers to excel.
Our growth and that of our customers are linked with each other and something REGO-FIX is also committed to. We invest in our people as the Best Places to Work in Indiana award shows. But the real message is that the investment we make in our employees assures our customers they are dealing with the industry's leading experts who will help them grow and reach their full potential.
Integrity, excellence and growth for ourselves and our customers. Together they are the foundation that makes the difference. The dedication to solid values, a collaborative, supportive corporate culture and creating the finest precision products that ultimately lead to happy customers and a commitment to 100% customer satisfaction. It's how we do business.