Get the most out of your Toolholders with the REGO-FIX Tech Team
From basic balancing and cleaning services to custom modifications and tailor-made training programs, the REGO-FIX Tech Team ensures your products arrive ready for use – and keep them in optimal working condition for years to come.
Comprehensive Tech Lab Services
Whether it's handling tough-to-machine materials, enabling unmanned operations or maintaining the highest level of accuracy, reliable toolholding is the foundation of secure machining. Increasingly, toolholders also have an important role to play in today's smart factories through the use of IIoT technology. And with scheduled inspections and preventive maintenance, high-performance toolholders can keep tools secure and parts moving for many years.
At REGO-FIX, we're proud to offer industry-leading support for our world-class toolholding solutions. At our Technology Lab, we ensure that our products are pre-assembled, balanced and/or laser marked; we can even modify our toolholders to fit your unique application requirements. In addition, we provide comprehensive inspection, maintenance and cleaning services that ensure you get the most out of every REGO-FIX toolholder. Our Tech Team can even provide virtual training sessions designed around your needs to equip your team with the skills they need to achieve manufacturing success.
Our Technologies at Work for You
Learn more about REGO-FIX technologies and how they can improve your workflow.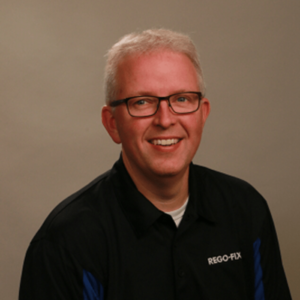 David McHenry
Engineering & Technical Manager
23 Years With REGO-FIX
The North American Tech Team's creator, David McHenry holds a degree in mechanical engineering from Purdue University and has decades of metal forming experience. Prior to joining the REGO-FIX Tool Corporation Team, where he now oversees the company's engineering and technical sales departments, David worked at Verson Press in Chicago and Muller Weingarten in Cincinnati.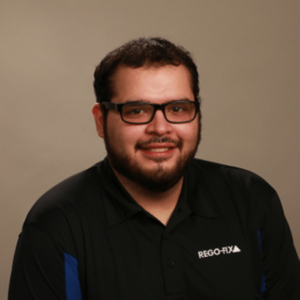 Ray Sarmiento
Technical Support
7 Years With REGO-FIX
The technical support specialist for REGO-FIX USA, Ray Sarmiento holds a degree in applied science in aviation maintenance technology and got his start at O'Neal Steel in Indianapolis. In addition to providing expert technical support, quoting products and assisting with customization requests, Ray uses his aerospace-industry experience to specialize in repairing and maintaining powRgrip equipment.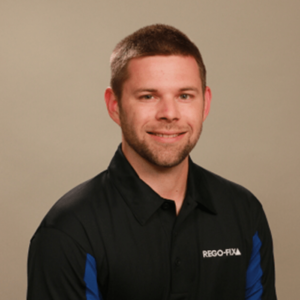 Chris Herdman
Technical Field Support Engineer
6 Years With REGO-FIX
Leveraging his extensive background in manufacturing engineering and CNC programming to help ensure REGO-FIX USA's customers' success, Chris Herdman specializes in CAD software, process improvements, client specific modifications, and metalcutting parameter optimization. He also serves as the company's resident expert on 5-axis CNC machining, laser marking and other custom modifications.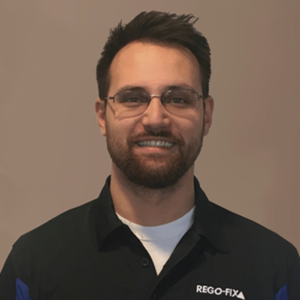 Connor Schupay
Technical Support
3 Years With REGO-FIX
After transitioning to a career in manufacturing after starting out in the REGO-FIX USA warehouse, Connor Schupay has quickly gained the level of expertise necessary to help the Tech Team maximize the uptime of the company's customers. Connor's responsibilities include quoting service estimates, answering technical questions and addressing customers' product modification needs.