High-speed cutting (HPC) with powRgrip
Increase tool life without shrink-fit?
No problem with powRgrip. The powRgrip toolholding system impresses with its outstanding runout TIR, high clamping force and good vibration damping. Perfect for demanding high-speed milling and drilling.
Increase your productivity now.
Discover the shrink-fit alternative.
Apply for your exclusive powRgrip
Test & Trial today!
You will receive either a PGU, PGC or already clamped toolholders and corresponding collets--appropriate to perform your test. A standard Test & Trial runs three to four weeks and does not obligate you to any purchase.
Key Advantages of powRgrip
Automated (PGU 9500) or manual (PGC 2506 with hand pump), our tabletop tool-mounting units change out any tool in less than 10 seconds with precision that delivers a TIR of <0.0001 (≤3 µm) and length adjustment repeatability of <0.0004″ (10 µm).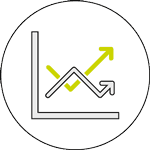 Reduce tooling inventory with one system for all types of tool shanks and materials in h6 tolerance and sizes from ø0.0079″ to 1.0″ (0.2 to 24.4 mm).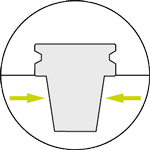 Industry-leading 1,100 Nm clamping torque rating.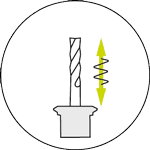 "Z" length adjustment repeatability of <0.0004″ (10 μm).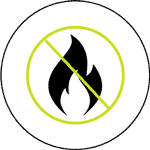 No toolsetting heat, chemicals, fumes or injury risks for complete worker safety and long tool life.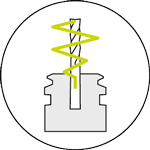 Superior clamping force, vibration damping and precision with toolholder-to-collet and collet-to-tool shank interfaces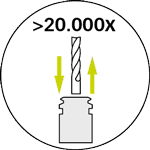 5-year/20,000-cycle warranty: A properly maintained powRgrip holder and collet will maintain TIR ≤0.0001″ with no erosion of impregnated surface treatment.
Discover powRgrip
How heat-free tool clamping works
The uniqueness of the clamping process shows the innovative technological accomplishment of powRgrip.
powRgrip clamps tools using a press-fit technology. This method – without heating/shrinking – is an efficient clamping solution in contrast to the conventional shrink-fit.
This makes powRgrip the ideal solution for high-speed milling and drilling.
"With powRgrip we can now work two months without having to replace a tool. When running hydraulic tool holder we made around 2,300 parts in that time; with powRgrip, we are now making 5,000 parts."
"The REGO-FIX powRgrip system offers such great retention that it totally takes care of my pull-out issues in heavy roughing, allowing me to be as aggressive as I like when roughing parts."
"62 tools saved a year [with powRgrip], and at $60 per tool, that's an annual savings of $3,720. And that's just one tool. Plus, operators don't have to change tools as much, which prevents changeovers that impact precision and/or add to setup time. That's huge."